Airbag/14Holes is a hybrid sound sculpture somewhere between a bagpipe, an organ, and a children's toy. To create sound, it uses abandoned recorder flutes that, following forced musical exploration during adolescence, were never played again.
Through a collecting campaign, a nomadic group of recorders are conscripted into the Linz Recorder Flute Asylum. Airbag/14Holes will provide air to this group of flutes. A heavy, continuous interaction between the flutes produces the emergent sound, like a dysfunctional organ finally finding its voice after a long period of silence.
In his residency at bb15, Lukas De Clerck will use Airbag/14Holes as his instrument by manipulating the air flows, to be performed during the closing exhibition. 
www.lukasdeclerck.com
We could use that lonely recorder (Blockflöte) that you have at home. Send us an email! office@bb15.at

The project is part of the Oscillations: Exercises in Resilience project.
Co-funded by the Creative Europe Programme of the European Union.



In rhetoric, the word tautology describes a statement in which a concept or idea is repeated, either word for word or with rephrasing, in order to give emphasis, or to reinforce a point in a self-referential manner. Even if no content is added to the statement's literal meaning, this repetition adds a layer of symbolic value and is capable of increasing the tension between reality and its reproduction.
This exhibition aims to find echoes of tautologies within representational artistic practices. Is there not something tautological in any attempt to represent reality?
In 'On Exactitude in Science' Borges' map demonstrates how 1:1 representations of territories are short-lived or at least inherently displaced from the reality they are created to represent. This displacement—the unavoidable distance from the perfect doubling, gives rise to unexpected "glitches" or flaws in meaning, which can materialise between the concrete and the abstract and ultimately influence the reality they are depicting. In this context, redundancies become desirable and produce effects: they add layers of symbolic value and increase the tension between reality and its reproduction.
The artists taking part in this exhibition adopt tautological gestures and self-referencing strategies in their own works that address the media they use, their artistic practices or reality at large. Through these attempts to overlay a representation of reality on the top of reality itself, they create spaces for rediscussing social and cultural conventions, rematerializing the virtuality of the real and deconstructing linguistic structures that might otherwise be taken for granted.
Curated by Davide Bevilacqua and Marie-Andrée Pellerin, bb15 Team
Cover Image: Annabel Lange, Untitled, 2020 (2009)
Participating artists
Pablo Chiereghin: pablochiereghin.com
Nieves de la Fuente: nievesdelafuente.es
Boris Kurdi: instagram.com/boriskurdi
Annabel Lange: annabellange.de
Martina Menegon: martinamenegon.com
Stöger/Tschinder: ekw1490.mur.at
During the second wave of lockdowns and cultural stop spread all around Europe in late 2020, bb15 invited sound artist Michele Spanghero in a process of "remote residency" for the creation of a compositional work dealing with silence and the emptyness of the cultural spaces.
Over the course of his Remote Residency Michele Spanghero created a second work by engaging with the sound qualities of the empty space of bb15, entitled Loopdown and now available as tape loop cassettes.
The work is grounded on the pressing feeling of looping of time during pandemic: a feeling of non-evolving solitude and melancholy that most of the people recently experienced during lockdowns.
Inspired by Erik Satie's musique d'ameublement – furniture music – Spanghero created a looping sound composition based on a short piano sequence, which repeats unchanged and yet evolves through texture and time variations. The work is also the result of a process of remote-recording with the help of the bb15 team, through which natural reverberation and resonancies of the bb15's venue were experienced from distance.
The second outcome of the Residency is a limited series of loop tape cassettes, a medium that itself does not have a beginning or an end, but only allows the listener to experience the composition spanning over time with the impression of movement or variations, but always returning to the basic piano sequence.
The 10 minutes loop tapes are released by bb15 in a limited edition of 20 cassettes and can be orderd here:
https://bb15.bandcamp.com/album/loopdown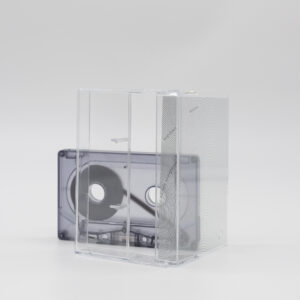 Michele Spanghero (Gorizia, Italy 1979) sound and visual artist
Michele Spanghero's artistic activity ranges from the field of sound art, to sculpture and photography. He's research is versatile, yet consistent enough to receive the mention as "Best young Italian artist in 2016" according to Artribune magazine. Spanghero exhibited his works in various international venues such as School of the Art Institute (Chicago), Hyundai Motorstudio (Beijing), Tuileries Garden (Paris), Museum of Modern Art (Istanbul), Ars Electronica festival (Linz), Klangraum (Krems), Mart Museum (Rovereto), Bevilacqua La Masa Foundation (Venice), Palazzo Te (Mantua) and 16th Art Quadriennale (Rome).
___