This experimental documentation of the exhibition "Tautologies. Or The Fallacies of Misplaced Concreteness" was realised in the months following the exhibition by Marlies Stöger and André Tschinder. The video contains images, video and sound excerpts from works presented in the framework of this exhibition by Pablo Chiereghin, Nieves de la Fuente, Boris Kurdi, Annabel Lange, Martina Menegon, Marlies Stöger and André Tschinder. Merging together a 3d model of bb15 space with some video documentation of the real artworks, the video leaves some traces of the project while at the same time developing a narrative on its own.
Publication *Re-Presented – After the exhibition Tautologies*
produced by Davide Bevilacqua, Mathias Müller, Sam Bunn, Hanna Priemetzhofer & Potato Publishing
images by Laurien Bachmann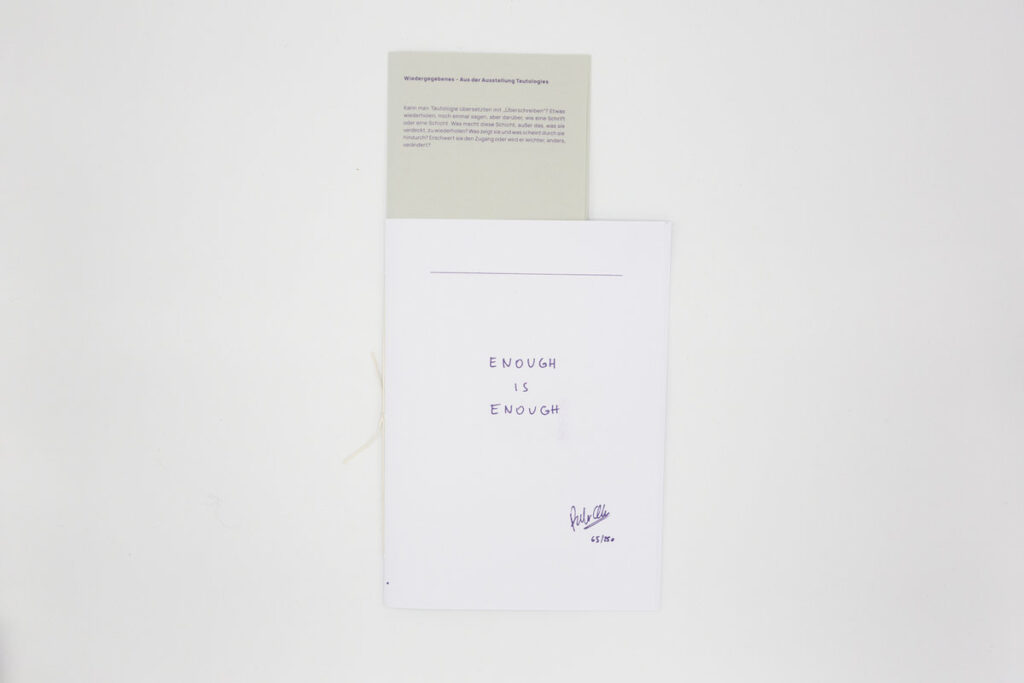 The publication "Re-Presented – After the exhibition Tautologies" is one further exercise at testing the malleability of "Tautologies. Or The Fallacies of Misplaced Concreteness", this time through the means of language and images. Any documentation format requires both details and context, but also a certain balance between the reenactment and the faithful archival work. This final take on the show focuses on the repetition as its conceptual essence and embeds this into a printed format. The publication features a text by Mathias Müller both in German and in English and the pictures of the installed pieces. Designed by Hanna Priemetzhofer, the booklet was riso-printed at Potato Publishing.
You can get one copy at: https://bb15.bandcamp.com/merch/publication-re-presented-after-the-exhibition-tautologies-2021
Special Opening Hours:
Saturday, December 18th, 2 to 6pm

This series of works explores themes of corporeality, in relation to sound production and audition, touch, and loss. The loudspeakers, microphones, enclosures, and membranes presented in this exhibition are in varying states of disrepair; most are no longer capable of producing sound and thus are poignant objects for meditation on impermanence, bodily frailty, and death. Each of these corpses bear visible marks of violence, traces of past collisions and other wounds which emphatetically encourage viewers to visualize this encounter and the consequential loss of capacity.

Davide Tidoni is an artist and researcher working with sound and listening. With a particular focus on direct experience, observation, and action, he creates live works of different formats that include performance, intervention, walk, and workshop. Bound to the performativity of the recording act, he realises videos and sound recordings which function as pieces and/or as documentation material.

www.davidetidoni.name
Special thanks to: Marzia Dalfini, Josh Octaviani, Brian Shabaglian,
Time's Up – Laboratory for the construction of experimental situations
(Tina, Stefan, Andreas), Potato Publishing, Maria Giovanna Cicciari,
Hans Ostapenko, Talia Mukmel, Clemens Mairhofer.
Exhibition Opening: October 12th, 2021, 7pm
Opening Hours: October 13th – 20th 2021, 3 – 6pm; Sunday closed
Please refer to the current Covid19 Regulations!
a nonsequential sound installation in three parts
On his first visit to the Ghetto Biennale in Haiti, Belgian artist Tom Bogaert heard something familiar in the rara marching music that was being played in the streets of Port-au-Prince. Already doing work exploring the legendary interplanetary jazz legend Sun Ra's visit to Egypt in the early 1970s, Bogaert read in the dog-eared pages of
an old copy of the Lonely Planet that Sun Ra was also rumoured to have visited Haiti, perhaps ten years earlier, during his so-called 'lost years.'
It was even said that Sun Ra might have composed his masterpiece, Rocket Number Nine, in Port-au-Prince. What Bogaert heard in
the streets made him believe this could be true and, even more so, he later found out that Rocket Number Nine has its roots in the traditional rara song Fize nimewo nèf.
Bogaert collaborated with the local rara band Kod Kreyòl to study and rehearse the somewhat forgotten Fize nimewo nèf, and a Clocktower Radio sound engineer recorded some of the early morning practice sessions that took place in the garden of the Oloffson Hotel. A while later, Kod Kreyòl performed Fize nimewo nèf at a now legendary concert in downtown Port-au-Prince featuring Masha Dabelka and her Rakete Nummer Neun.