During the second wave of lockdowns and cultural stop spread all around Europe in late 2020, bb15 invited sound artist Michele Spanghero in a process of "remote residency" for the creation of a compositional work dealing with silence and the emptyness of the cultural spaces.
In times when the current condition could not be imagined, the artist explored acoustically empty theaters in his long-term project "Monologue", an audio-visual work inspired by the Italian theatrical architectural heritage. Since 2014 Spanghero collects images and resonant frequencies from some of the most important Italian theaters and opera houses, such as Teatro Regio in Parma, Gran Teatro La Fenice in Venice, or Teatro di San Carlo in Naples.
Due to the pandemic limitations all across Europe, theaters – places with a long tradition of social and political relevance – are currently closed. Spanghero re-worked his archive of recordings and he celebrated the Gran Teatro La Fenice in Venice by filling its emptiness and silence through an orchestral composition that blends with the recording of the resonance frequencies of the theater he made there in 2015.
Monologue Exhibition
The video installation was streamed online from December 28th to 31th on this website.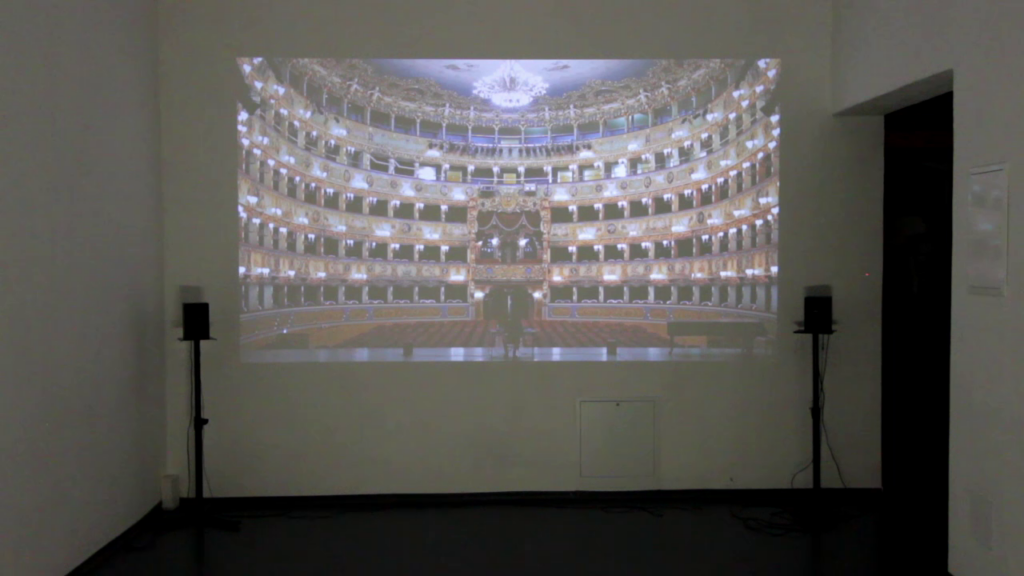 Michele Spanghero (Gorizia, Italy 1979) sound and visual artist
Michele Spanghero's artistic activity ranges from the field of sound art, to sculpture and photography. He's research is versatile, yet consistent enough to receive the mention as "Best young Italian artist in 2016" according to Artribune magazine. Spanghero exhibited his works in various international venues such as School of the Art Institute (Chicago), Hyundai Motorstudio (Beijing), Tuileries Garden (Paris), Museum of Modern Art (Istanbul), Ars Electronica festival (Linz), Klangraum (Krems), Mart Museum (Rovereto), Bevilacqua La Masa Foundation (Venice), Palazzo Te (Mantua) and 16th Art Quadriennale (Rome).
___